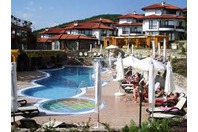 Apartment, Sunny Beach, Bulgaria
€22000
Appreciating Assets are delighted to offer for sale this beautiful 1-bedroom 1-bathroom first floor apartment in the exclusive Bay View Villas holiday resort at Kosharitsa near Sunny Beach for the current market price of 22,000 euros.
Property Description
This extremely smart 1st floor property in this low-rise unique development comes to the market fully-furnished and in excellent condition. The apartment has 1 large bedroom plus 1 fully tiled bathroom with shower, as well as a well fitted modern kitchen with all necessary appliances. The apartment also enjoys a large balcony with great views. A unique selling feature of this development is that these apartments afford the owner the feel of living in a house or standalone property as opposed to high rise living.
Bay View Villas - Kosharitsa
The Bay View Villas - Luxury Villas & Apartments is located within an easy drive of the village centre and offers tranquil accommodation as well as a beauty centre, a seasonal swimming pool and a sauna. Villas are air conditioned and feature private balconies. The Bay View Villas - Luxury Villas & Apartments has 100 villas and offers a fitness centre. Facilities at the property include a concierge, a 24 hour reception and a children's pool. Leisure options at the property include massage services, a beauty salon and a spa & wellness centre.
The villas at the Bay View Villas - Luxury Villas & Apartments have a TV, cable / satellite channels and a telephone. Each includes a barbecue and an in-room dining area. Villas are also equipped with internet access. The Bay View Villas - Luxury Villas & Apartments' restaurant offers a tasty menu featuring International cuisine. There is also a large bar on site, offering guests a premium drinks menu. The complex conveniently provides free parking for those travelling by car. Burgas Airport (BOJ) is a 40 minute drive away.
Click for more »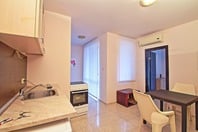 Apartment, Sunny Beach, Bulgaria
€27000
This 1st Floor 2 Bed Apartment is available now to buy. As you will see from the photos and video tour of the property it comes with all fixtures and fittings available straight away to the new owner. The property boasts a very spacious 51.52m living area with Balcony overlooking the pool. The bathroom is highly equipment and exceptionally stylish. Priced at €27,000 this property will not be available for long as this apartment offers tremendous value for the new owner looking for either their own holiday home in the sun, or for an investment!
St. Sofia is in the Southern part of one of Bulgaria's most popular resorts Sunny Beach. The Apartment is 5 minutes walk from the beach, and beside a beautiful garden and tranquil river.
Facilities of St Sofia Sunny Beach:
Restaurant
Lobby bar
Reception
Swimming pool
SPA

Jacuzzi
Steam sauna
Hydro therapy facility
Relaxation room

Children's playground
Supermarket
Free security parking
https://plus.google.com/+AppreciatingassetsIebg/posts/ACK6b53veYy
Click for more »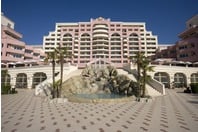 Apartment, Sunny Beach, Bulgaria
€27000
Appreciating Assets have the great pleasure of offering this excellent 47.67 m2 studio apartment to the market at the very competitive price of only 27,000 euro.

This 3rd floor apartment , located in Block E is the perfect holiday home from which you can watch the beautiful blue waters of the Black Sea , while knowing that you are also sitting in the best investment you have ever made !

Majestic Hotel & Residence is an elegant and charming complex, which provides a relaxing and sophisticated atmosphere, a perfect ambiance of warmth and hospitality. The complex is strategically located in the northern part of Sunny Beach and has a total built – up area of 56 000 m2.

Majestic Hotel & Residence comprises of a 4 * hotel facilities with two adjoining blocks of exclusive apartments. The complex offers ultimate on – the – beach experience, comfortable originality and spacious luxury. The large open area on the very front of the complex spreads on more than 10,5 acre, thus forming a unique garden with spacious swimming pools surrounding the exotic palm trees. Majestic Hotel & Residence is not only a large modern project but rather a gleaming jewel of modern architecture, a place where luxury meets design and dreams – reality.

For any further information about this property please do not hesitate to contact our sales team , who will be very happy to assist you in English , Bulgarian , Russian or Greek.

sales@appreciatingassets.ie
Click for more »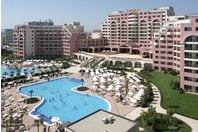 Apartment, Sunny Beach, Bulgaria
€47000
Appreciating Assets are delighted to offer for sale this wonderful exceptionally large 1-bedroomed apartment measuring around 85 square metres, situated on the 2nd floor of Block E in the Majestic Hotel holiday resort in Sunny Beach, now asking 47,000 euros.
Property Description
This property is the epitome of luxury. What any prospective buyer who is considering purchasing an apartment at the Majestic Hotel & Beach resort is looking for is absolute quality, and this development does not disappoint. Furthermore, this particular property is perfectly situated on the 2nd floor (so off the ground but not too high either). Obviously those properties with a better vista do tend to command a significant price premium, as we all would expect. In a nutshell then, this is a perfectly situated property in a top-class resort, that also boasts considerable size too. Despite there only being one bedroom, this apartment at 85 square metres internally, is bigger than many of the typical 2-bed apartments that are found in Sunny Beach, or indeed along the Black Sea coast. in terms of interior decor, this apartment could only be classified as 5-star. The decor is very modern and trendy with a lot of contrasting wooden furniture, doors and door frames, set against lightly coloured marbel-effect floors. The kitchen is no exception with again a lot of two-tone wooden cabinets and matching dining table and chairs. A similar theme spills over into the rest of the main living space; the TV stand, coffee table and sofa are all extremely stylish also. The bathroom is fully-tiled from floor to ceiling and is very well specified, including white bathtub with integrated shower head. The master bedroom is big and beautiful, with large double bed flanked by sumptuous lockers as well as other matching bedroom cabinets. Lastly, there is the magnificent balcony is perfect for dining al fresco or for relaxing mid-morning breakfasts outside soaking in not just the ultraviolet rays of the sun, but also breathing in that lovely sea air. This is a premium property at an exceptional price.
Majestic Hotel & Beach Resort
Majestic Beach Resort is an elegant and charming complex, which provides a relaxing and sophisticated atmosphere, a perfect ambience of warmth and hospitality. The complex is strategically located in the northern part of Sunny Beach and has a total built-up area of 56,000 square metres.
Majestic Beach Resort comprises of a 4 * hotel facilities with two adjoining blocks of exclusive apartments. The complex offers ultimate on-the-beach experience, comfortable originality and spacious luxury. The large open area on the very front of the complex spreads on more than 10,5 acres, thus forming a unique garden with spacious swimming pools surrounding the exotic palm trees. Majestic Beach Resort is not only a large modern project but rather a gleaming jewel of modern architecture, a place where luxury meets design and dreams – reality.
The central hotel block comprises of 339 double rooms (including 4 rooms for disabled), 50 studios and 15 apartments. There are 328 exclusively furnished apartments in the two blocks, all of which tastefully decorated to satisfy the expectations of the most discerning guests. The units are split into 123 studios, 187 one-bedroom, and 18 two-bedroom apartments.
Everything in Majestic Beach Resort is designed to touch and tantalize all senses in order to bring you the ultimate pleasures of body, mind and spirit.
Click for more »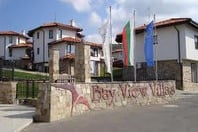 Apartment, Kosharitsa, Bulgaria
€27000
Appreciating Assets are delighted to offer for sale this fully-furnished ground floor 1-bedroom apartment with private patio/terrace and garden area, situated in Block Eli of the Bay View Villas resort complex in Kosharitsa, now asking only 27,000 euros.
Property Description
This is a charming and spacious at 62 square metres internally, 1-bedroom property with outside patio/terrace area complete with exterior dining furniture and barbecue, partly covered by a smart wooden trellis (perfect for training plants such as climbers and ivy, if any prospective owner wished to create a more shaded area). The interior of this property is quite chic with large earthy-coloured floor tiles plus a lot of natural wood features (including some lovely wooden furniture) complimented by neutral light coloured walls. Small hallway on entering the property with a separate fully tiled guest toilet. The kitchen area is smart, modern and totally functional including a washing machine. Within the kitchen is a large walk-in cupboard. There is a solid wooden dining table and chairs in the main living area and a sofa and chair settee to sleep three comfortably and included is a TV and matching wooden furniture.. The main living room has access to the rear paved terrace area which has to be said is a key feature of this ground floor property as it leads directly onto a garden area, and enjoys a high degree of privacy, plus it contains a part-shaded area along with beautiful wooden patio furniture and table - perfect for dining outdoors during those hot summer evenings. The master bedroom is spacious and has matching dark wooden furniture with a walk in wardrobe with lighting. The bedroom benefits from a lot of natural light thanks to the glass wall, plus there is an additional access door to the exterior terrace area. Not shown by our recent photographs is the bathroom area which is fully tiled and includes a shower. A particularly nice feature of the outside patio area is the adjacent stone pathway, beside the patio, that matches perfectly with the stone cladding used on the exterior ground floor of the building. This is a fantastic property at a great price in a lovely gated development and would make for a perfect retreat in the sun for any prospective holiday home buyer.
Background on Bay View Villas
Built in 2007, this is an exclusive development of luxury villas, each divided into separate apartments. The whole community includes a full spa and sports centre, a restaurant and bar complex, concierge services and much more. The site comprises over 45,000 me and facilities on offer include an entrance hall with 24-hour reception, a currency exchange facility, a cafe, a hairdresser, a bar, a pub, a restaurant, Internet access, a laundry service, a children's playground and parking for those arriving by car. The hotel is situated in the tranquil Almond Mountain area of Sunny Beach. This location offers stunning views across the bay over Sunny Beach and Nessebar.
Surrounded to the south, east and west by almond groves, the site is bordered to the north by one of the largest national forests in Bulgaria. The hill rises gently to the north across the site providing excellent south and east facing sea views for all of the hotel properties. The area combines the quiet seclusion of the nearby groves and forest with the facilities and entertainment of nearby Sunny Beach, just 5 minutes away. Burgas Airport is some 40 km away and Varna Airport is approximately 100 km from the hotel. One, two and three-bedroom apartments are available. There is an outdoor swimming pool with children's paddling pool on the hotel grounds, as well as a Jacuzzi, a sauna, a steam room, massage treatments and an on-site gym.
Additional Information on Kosharitsa the place:
Kosharitsa is a small village, situated in Nessebar municipality, in the region of Burgas. It has a very good location, just 4 kilometres away from the Bulgarian equivalent of Las Vegas - the lively Sunny Beach Resort. The picturesque village is beautifully nestled at the foot of the Emine Balkan, part of the Old Mountain Balkan Range. It reveals unforgettable views towards the mountain and at the same time its close proximity to the sea and the lovely beaches of Sunny Beach makes it a perfect place for a relaxing summer holiday.
Kosharitsa has been recently developing, while plenty of investments are being made in the region. There are a variety of project development plans, including construction of a golf course in Kalinata Range and building of modern residence complexes. Many properties for sale in the region are offered as well.
In Kosharitsa there are very good opportunities for sport tourism, including mountain biking, fishing and hunting. You will be surprised by the natural beauty of the place. If you want to experience a different summer holiday, the small village is definitely the right challenge for you!
Click for more »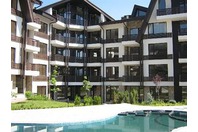 Apartment, Bansko, Bulgaria
€22000
Appreciating Assets are very pleased to offer this one bedroom apartment for sale in Aspen Suites, Bansko at just €22,000.
Property Description
This one bedroom apartment is located on the ground floor and is approx, 78.76 isn size
About Aspen Suites Ski Resort in Bansko
Aspen Resort Golf Ski & Spa Apartment complex is located in the beautiful and quiet area of Razlog Valley. The resort is 10 minutes by car from the well known Bansko ski resort. The internationally recognized outstanding 18-hole "Pirin Golf" course designed by the winning 2006 Ryder Cup Captain - Ian Woosnam is just 300 m away.
The guests of Aspen Resort benefit of the magnificent view to the snowy hills of Pirin, Rila and Rhodopes mountains and luxury Spa and Wellness centre.
The complex consist of one main building – Aspen Golf and 2 further wings – Aspen Suites and Heights. The Reception, restaurant and wellness centre are located in Aspen Golf.
All accommodation units at the Aspen Resort come with a cable TV with DVD player, as well as a private bathroom and hairdryers. They have a fully equipped kitchenette including fridge, oven, kettle and toaster.
In Aspen Golf there are indoor heated pool as well as outdoor pool, operational during the summer time. Modern and newly furnished restaurant and lobby bar are provided. In the complex there is a kids club and playground in the beautiful garden, barbecue, billiards and well equipped fitness are also at disposal of the guests.
Free Wi-Fi in the public areas, free private open-air parking is available on site.
A heated indoor pool is also provided in Aspen Heights.
All guests of the complex use indoor pool, sauna, steam-bath and fitness free of charge.
About Bansko
Click for more »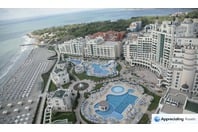 Apartment, Pomorie, Bulgaria
€40000
Appreciating Assets are delighted to offer for sale this fully-furnished 1-bedroom apartment situated on the 2nd floor of Block C of the well known and highly sought-after Sunset Resort in Pomorie, now asking just 40,000 euros.
Property Description
This property is a 1-bedroom apartment, however it is a Sunset resort 1-bed which is typically as large as a 2-bed elsewhere in Sunny Beach and the property is approximately measuring 65 square metres internally and is located in the main central building of the complex on the second floor.,This apartment has one large bedroom with large double bed with matching bedroom furniture: bedside locker, cabinet and wardrobe. The interior decor and design of the apartments at Sunset resort are notoriously high-specification with lovely tiled floors with large tiles, dark wooden furniture and cabinets including the kitchen units, as well as pale yellow or magnolia coloured walls with high contrast burgundy-coloured lined drapes (important when darkness is required for sleep during the very bright summer evenings/mornings).. The kitchen also has all of the latest modern conveniences that the most demanding of holidaymakers would expect. The floor-to-ceiling tiled bathroom is the epitome of luxury and not a million miles away from what one would expect to see whilst staying at a 5-Star international hotel. There is a full bathtub with shower head in the bathroom, so the best of both worlds. The main living room is open-plan as you would expect for a holiday property and with the clever use of a sofa-bed (as our pictures illustrate) along with the double-bed in the main bedroom, this apartment can easily cater for 4 adults or a small family. One partcularly attractive features of properties like this one at Sunset resort is the wonderful balconies or terraces that come with these apartments, apart from the wonderful sea views, the accompanying terrace area is a splendid place for 'breakfast al fresco'.
Background to
Sunset Resort
Sunset Resort is located in the town of Pomorie, with a great south west orientation. It is only 15 minutes away from Burgas International airport and less than 20 minutes from the city of Burgas itself, the second biggest city on the Black Sea coast. Sunny Beach, the most famous resort of the Bulgarian Black Sea is also less than 15 minutes away as is the ancient and historical town of Nessebar, which is rightly famous for its architecture and archaeology
Sunset Resort is located right beside a 400 metre long (quarter-mile) beautiful natural sandy beach in the new quarter of Pomorie. It is close to the main motorway for Burgas to Varna, which connects the hotel compound with the city of Burgas, the antique Nessebar, as well as with the largest and most popular holiday destination on the Black Sea Coast, Sunny Beach.
The South Beach of Pomorie stretches down a quiet gulf in the Black Sea coast. Remarkably, it is one of the safest beaches in Bulgaria, having very slight surf and almost no tide. It has a total length of approximately 1 km and width of up to 100 metres in places, so very wide and long.
The luxury five-star Sunset Resort comprises 5 Aparthotel and 6 deluxe waterfront villas, on a total built up area of 115 000 square metres. The four outdoor swimming pools offer various water attractions and include two pool bars, all expanding on a total area of more than 3 500 square metres.
Sunset Resort has a huge range of facilities in addition to the wonderful swimming pools, including; cocktail bars, restaurants, shops, outdoor cafe, and so on with the added benefit that all are set in extensive private grounds. There are beautiful views of the sea and, indeed, towards the Stara Planina Mountain. This is a luxurious resort that is the envy of many in Europe with all the leisure facilities and services you could possibly wish for - a great choice for a high class vacation.
The quality of the Sunset Resort development is evident from the moment you arrive and is mirrored by the quality of build and finishes in these lovely apartments. This resort complex overlooks the crystal blue waters of the Black Sea, and these apartments make for great summer homes or alternatively as rental properties to the booming holiday market.
Click for more »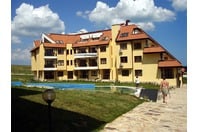 Apartment, Kamchia, Bulgaria
€45000
Appreciating Assets are delighted to offer for sale this extremely spacious fully-furnished ground floor 2-bedroom plus 2-bathroom apartment measuring some 98 square metres in total and located at the rear of the complex building, now asking just 45,000 euros.
Property Description
A very large and spacious property with some 91.7 square metres (almost 1,000 square feet) of internal living space along with a further 6.42 square metres of common area, giving a total size of around 98.12 square metres. Accordingly, a property of this magnitude can easily accommodate up to 8 persons. This property is currently offered for sale fully-furnished and as our recent photohraphs show it comes with a nice large balcony or terrace area. Given that this apartment is situated at the rear of the building there are uninterrupted views of the mountains and surrounding area, which is a big plus especially as Oasis Beach is also a coastal resort, thus is adjacent to the beach and sea. The interior of the property is very clean and modern, offering lovely wood-effect laminate flooring in the main living space such as ktchen, living room, dining area and so on. There is a large wooden dining table with 8 matching chairs and the pictures show that the decor is both neutral (wall colourings etc.) as well as being classically contemporary. This is a property that any owner would be proud to show off and is perfect too for entertaining guests. Two large double bedrooms with double beds coupled with overhead air-conditioning wall units ensure that hot sleepless nights on vacation are a thing of the past. There are two tiled bathrooms too which is a major positive feature in a holiday property. The kitchen is small but functional with wooden cabinets and backsplash, along with oven/hob, microwave, sink, kettle and free-standing fridge. All told this is a perfect holiday home for those seeking privacy in a resort with pool beside the beach, yet offering some seclusion without the hustle n' bustle of being surrounded by lots of other apartment blocks or other resorts. There are also lots of walks and trails nearby that add a slightly different dimension to this resort, particularly for those months during the Spring or Autumn, which makes for a nice alternative. At this particular price point, specifically on a price-per-square metre basis; this 2-bed property represents incredible value for money when one considers build cost today.
Oasis Beach Resort
Oasis Beach Resort is an impressive newly constructed complex in Kamchia and is enclosed by a nature reserve and set among great Bulgarian culture. This is a tranquil location for those who want to relax and enjoy fantastic unique scenery.
The complex is only 3 km to the nearest beach with general amenities such as a bar, gymnasium, shop plus 3 Swimming pools with a pool specifically for Children in mind. The apartments offer very sizeable rooms and all come with a sun balcony.
The complex has its own beautifully landscaped gardens for everyone to enjoy and other facilities at the complex include lifts, secure parking as well as wheelchair access. A short walk in the resort will lead you to local bars, cafes and restaurants with a pleasant and enjoyable atmosphere.
There are also two international golf courses within half an hour's drive and an abundance of local outstanding beauty spots to explore. You can rent a car or bike out if you would like to travel around the wonderful location of Kamchia and its surrounding Bulgarian towns.
Click for more »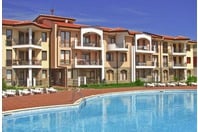 Apartment, Sunny Beach, Bulgaria
€55000
Appreciating Assets are delighted to offer for sale this extremely spacious at more than 86 square metres, fully-furnished 2-bedroom 2nd floor apartment with balcony at the Arcadia holiday resort in Sunny Beach for the great price now of just 55,000 euros.
Property Description
With 2 bedrooms as well as an internal floor area of 86.57 square metres, this is an extremely spacious property by European standards. A nice feature of this particular development is the enclosed balcony areas that provide just the right amount of shade, yet still allow the owner to sample the fine weather that this part of the Bulgarian coast has to offer. The apartment also enjoys wood-effect laminate flooring in the bedrooms that makes for a nice warm atmosphere, and at the same time floor tiles are used in the kitchen, dining and living areas, which add to the ambience of space and minimalism. Arcadia complex is all about enjoying one's holiday and the design of the building suggests both privavcy and relaxation. Light and pastel colours abound as does lighter wooden cabinets in for instance the kicthen come as standard. It is all about minimum fuss and hassle. The condition of the apartment is superb throughout. The property comes fully-furnished and ready for immediate occupation. The kitchen is smart and functional, there are dining chairs plus a table as well as the usual sitting room furniture. both bedrooms are large and spacious, again with a minimalist theme. There is also a fully-tiled bathroom with essential shower unit. Finally there is a balcony offering the added benefit of being able to dine outdoors. It must be noted that a property this size with large bedrooms such as these as well as the possiblility of using additional sofa-beds, suggests that this property can easily accomodate 6 adults or a large family.
Background to Arcadia Complex
Arcadia Complex is a sea holiday club, which combines the best traditions of Bulgarian architecture and modern holiday facilities. The name of the complex was not accidentally chosen - in ancient mythology Arcadia is a land of prosperity, dreamed happiness and joy. The complex is situated in the north part of Sunny Beach, 300 metres away from the sea and the hot sands of Cacao Beach. So literally everything is within walking distance. There are a lot of minimarkets nearby and supermarket "Zora" is a mere 4 minutes away walking distance. For those who are looking for eventful parties, they will find them on the famous Cacao Beach and a lot of fun too is to be had in the numerous bars, cafeterias, discos and night clubs close by. With its distinctive architecture, good location, lovely large green garden and quiet atmosphere, Arcadia complex is a great holiday destination.
Distance to beach: 350 metres
Distance to centre: 900 metres
Distance to airport: 27 km to Airport Burgas
Distance to bus station: 300 metres
Distance to railway station: 30 km
Distance to cash machine (ATM): 300 metres
Distance to exchange office: 300 metres
Distance to restaurants: 100 metres
Distance to shops: 200 metres
Click for more »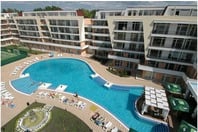 Apartment, Sunny Beach, Bulgaria
€53000
Appreciating Assets are delighted to offer for sale this fully-furnished spacious 2-bedroom apartment measuring almost 83 square metres internally, plus with large balcony across the full-width of the property with views extending over the children's play area and swimming pools, situated on the 5th floor of the Grand Kamelia 1 holiday resort in Sunny Beach, now on offer for sale at just 53,000 euros.
Property Description
This is an extremely spacious property at 82.55 square metres of internal floor space plus a large external balcony that stretches all the way across the front of the apartment, located on the 5th floor thus enjoying great views of the swimming pools, poolside bar and childrens' play area. The apartment is in immaculate condition and comes to the market fully-furnished, so ready to occupy as soon as possible. We include a floorplan picture of the fifth floor and this apartment is situated on the far left corner, perpendicular to the main body of the building, so it enjoys a commanding view of the entire pool and activities area along the full length of the complex. Property position is always important within each development and this particular apartment has one of the best, plus it is on the upper floors which is all important to eastern Europeans. The interior design of the property is quite plain and simple with tiled flooring to make for easier upkeep, as well as bright and neutral wall colourings. The layout of the property has been designed to maximise floor space, thus the overall foot-print of this apartment is like a square. You enter the property into a mini hallway off which all rooms are located, on the left is a large bathroom with corner shower unit, as well as sink and toilet. Across from this bathroom are the doors to both bedrooms, the master being slightly larger and to the far left. Both bedrooms enjoy large glass windows from floor to ceiling and patio doors to the large full balcony, ensuring tonnes of natural light as well as access to outside. There is also an access door to the balcony area from the main living room, so 3 doors onto the balcony which is quite a novelty in of itself. The main living area is to the right of the entrance hallway and the kitchen is along the back wall separated from the dining/living room by a breakfast bar or counter. The kitchen comprises of wooden cabinets and includes all the modern conveniences that anyone should need, including a good-sized free-standing fridge-freezer. Beside the kicthen area is a dining table plus matching chairs and beyond this is the TV/longe space with sofa and armchair, coffee table plus TV stand next to the patio door to the balcony area. There is also a window on the side wall behind the sofa that is at a right angle to the balcony window, thus making this property dual-aspect (at least in terms of natural light anyway), one of the benefits of a corner property. In summation then, this is a fantastic property with perfect site position, spacious enough to accommodate up to 6 persons, plus it has a terrace area that is quite simply twice as big as most of the other apartments also located on the fifth floor of this development, so great for sunbathing or relaxing outside or even dining al fresco in the mornings or evenings.
Background Information on Grand Kamelia 1
Grand Kamelia is located in the western part of Sunny Beach Resort, next to the bus station and "Mladost" Supermarket. The 'closed' type of the complex makes it a calm corner for rest and relaxation. The beach strand is 600 metres away. Overall gardening, cleaning, lighting, CCTV surveillance and security of the complex are taken care of by the onsite management company who can also arrange for letting the apartments.
The complex has:
personal, secured parking lot,
lift in every section,
2 swimming pools for adults and children
aqua bar, restaurant,
outdoor area for sun-chairs,
children's playground,
reception,
tennis court
fitness
mini golf
secured parking
full time maintenance and security
Click for more »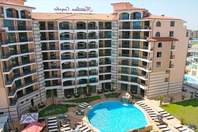 Apartment, Sunny Beach, Bulgaria
€39500
Appreciating Assets are delighted to offer for sale this fully-furnished spacious 1 bedroom, 5th-floor apartment, in the stunning Karolina Complex in Sunny Beach, at just 39,500 euros.
This 4-star Karolina Hotel is located in the eastern part of Sunny Beach resort only 150 metres from the beach and a 10-minute walk to the ancient town of Nessebar. The luxurious and comfortably appointed accommodation provides all modern amenities and the complex has a lot of facilities on offer. There are 2 restaurants a lobby bar and a pool bar. You can unwind in the outdoor swimming pool without worrying about your little ones as there is a section for children and the sun-bathing terrace with parasols and lounges awaits you. After a long day outdoors be pampered in the spa centre or work out in the fitness room.
Property Description
The property itself is approximately 65m2 in size and is located on the 5th floor with a wonderful view of the pool. The kitchen comes fully fitted with hob, fridge freezer, washing machine, kettle and toaster.
Click for more »
Apartment, Sunny Beach, Bulgaria
€16000
Appreciating Assets are delighted to offer for sale this 4th floor studio apartment, approximately 30 square metres of floor space internally, at the Aphrodite 1 holiday resort in Sunny Beach, now asking just 16,000 euros.
Property Description
First and foremost this is one of two adjacent fourth floor studio properties that may be acquired together, thus enabling any potential buyer to create one larger (essentially then a 2-bedroom) apartment. This would obviously also apply to the terrace or balcony areas which as our generic photographs show; are separated by a simple sloping block wall that provides for no structural integrity, but merely for cosmetic (separation and privacy) purposes. As far as the interior décor is concerned, the apartment is very contemporary with wood-effect laminate flooring in the main living space and floor tiles in the kitchen/dining area, apart from the bathrooms which are fully-tiled. There are also wooden internal doors and door frames, complimented by neutral (light yellow or magnolia coloured) walls. The kitchenette is basic yet functional and of a simple classic design incorporating wooden cabinets as well as a solid grey backsplash between the upper cabinets and worktop. The kitchen includes a sink, oven and hob plus area for a microwave oven, so essentially designed for preparing light meals and snacks, which is what you would expect from a holiday apartment in a large resort with many restaurants nearby. A key feature of this property is the large French-style sliding patio doors to the balcony/terrace area as they provide not just access to outside, but they also allow for a lot of natural light to be let in, thus this apartment is extremely bright. The balcony is extremely private and is tiled, so is perfect for either sunbathing, sitting or dining outside al fresco. Another additional feature is the fact that this apartment is situated on the fourth floor in a six-storey building that goes from Ground, to 1,2,3,4 and 5, thus this property is located on the penultimate floor (that is there is only one additional floor overhead) and this is a highly sought after factor, particularly with Eastern European and Russian buyers, not just for the obvious views, but rather for additional security and less ambient environmental noise. Accordingly, this property has a lot to offer either a potential owner-occupier or for the investor seeking to benefit from the attractive yield potential that studios along the Black Sea coast have to offer when the price is right.
Aphrodite 1 Sunny Beach – Key Facts
Floors: 6
Apartments: 122
Elevators: 2
Pools: 1
"Aphrodite I" is located in a quiet and green area in the heart of Sunny Beach, only 500 meters from the beach. It is the first and one of several Aphrodite buildings & complexes built by the same builder. For instance there is the Aphrodite II (150 apartments), the Aphrodite III (43 apartments), the Aphrodite Palace (97 apartments), the Aphrodite Rose (57 apartments) and more recently the Aphrodite Gardens (162 apartments)
100m from the "Aphrodite I" located "Aphrodite II", and between them lies a large park area, unique for Sunny Beach, 7 acres of green space, which will be built playgrounds and attractive places for recreation. "Aphrodite I" was completed and put into operation in 2008. Consists of 122 apartments and studios from 30 to 85 square metres.
Facilities in the complex include:
24 hour security and video surveillance
Parking
Swimming pool
Playground
Pool-bar
Billiards
Click for more »